Screen-Based Eye Strain
What does your technology do for you? Today, we can order dinner, buy concert tickets, chat with friends, play games, and even work, all from any device with a screen. Smartphones, gaming consoles, computers, and tablets make our lives more convenient.
But, there are some drawbacks to increased screen time. It's almost impossible to get away from devices at school, work, or home, and as a result, many Canadians experience discomfort related to digital eye strain. Too much screen time can also affect how kids' eyes develop, linking to an increased risk of myopia (nearsightedness).
Digital eye strain, also known as computer vision syndrome, refers to a group of ocular issues stemming from too much time spent using digital devices.
If you're experiencing eye discomfort after staring at your screen, we can help. We'll assess your screen habits and provide some strategies to mitigate your discomfort.
Book an appointment to find relief from digital eye strain today.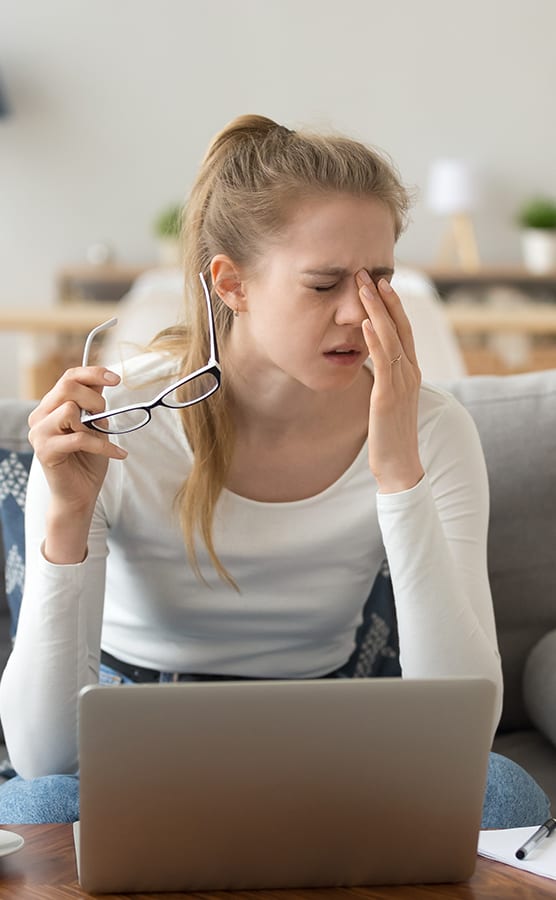 Symptoms of Digital Eye Strain
There are a few common symptoms associated with digital eye strain, including:
Dry eyes
Headaches
Eye strain
Blurry vision
Neck and shoulder pain
Often, symptoms will alleviate when you take a screen break. But, discomfort will return once you're in front of a digital device again. To find relief in the long term, you'll need to implement some mitigation strategies.
It's also important to visit your optometrist to help detect any other conditions that might affect your eye comfort.
Adjusting your work area, taking intentional screen breaks, and ensuring you have sufficient lighting while using your digital device are all strategies that can help reduce digital eye strain.
Ergonomics
Office (or classroom) ergonomics and proper posture can help you stay comfortable while using digital devices. While you're at your desk, be sure to sit upright with your feet flat on the floor. Your shoulders should not be rounded or hunched, and your neck should align with your torso.
Keep devices at eye level and your keyboard and mouse near enough to prevent reaching.
Remind kids to keep their backs lined up with their chairs, or imagine keeping their backs straight as a tree.
Settings
If you're reading on your digital device, increase the font size to minimize squinting. Contrast and colour tones should also be set to maximize your comfort.
Talk to your child about what font size feels most comfortable for them and help them make appropriate contrast adjustments.
Lighting Levels
The light levels around you and on your device can help prevent digital eye strain. Turn down your screen's brightness to match the lighting levels of your surroundings. If the light from the room is reflected in your screen, the glare can also contribute to eye strain.
Anti-glare screens are available for your device's display, and glasses with an anti-reflective coating can help.
Remind your kids to turn on the lights in dark rooms to avoid tired eyes.
The 20-20-20 Rule
When you're concentrating on your work, it might be challenging to take a break, but following the 20-20-20 rule can help relax your eyes. Every 20 minutes, look at something 20 feet away for 20 seconds. This helps give your eyes refocus, reducing strain.
Set a reminder on your phone or set up parental controls on your kid's device for scheduled breaks and screen time limits.
Blue Light Protection
Blue violet light is also known as high-energy visible light. Blue violet wavelengths between 380nm and 440 nm are seen as potentially damaging and have been implicated as one of the possible causes of retinal damage (photoretinitis). Too much ultraviolet and blue-violet light can cause damage to the eye's crystalline lens (e.g. cataracts) and to the retina. LED lights emit blue light from light sources or screens, including digital devices such as smartphones, laptop and computer screens. Although the amount of high-energy visible blue light emitted by digital screens is a small fraction of that emitted by the sun, the amount of time people use these devices and how close these screens are to your eyes has caused some concern about potential long-term effects of blue light on eye health. Animal studies have shown damage to retina cells due to blue violet light exposure. Longer exposure to blue violet light emitted from digital devices can also contribute to digital eye strain. High proportion of blue light can also contribute to more restless at night and increased sensation of glare. Blueguard lenses can help reduce the amount of blue-violet light entering your eyes. Eating foods like kale and spinach along with nutritional supplements can provide more protection for your retinal cells. If you are on devices more than 3 hours a day, ask Dr. Neufeld about appropriate management options even if you don't need an eyeglass prescription to see clearly.
Kids & Digital Eye Strain
Adults use screens frequently, but they're creeping into kids' lives too. Studies show that the risk of children developing visual issues increases after 2–4 hours of screen time.
The Canadian Association of Optometrists recommends that children avoid screen time 1 hour before bedtime and never bring a screen into their bedrooms. Breaks should be encouraged frequently when kids are using screens, particularly outdoor breaks, for whole-body physical activity.
Children should have regular, comprehensive eye exams to support the health of their vision, regardless of their screen time. Schedule an appointment to support your child's eye health today.
Visit Our Location
Find us in Auburn Bay Station, near the Auburn Bay Co-op and next to The Brow Studio. We serve patients across SE Calgary, including Seton, Mahogany, Cranston, Copperfield, McKenzie Lake, McKenzie Towne, and New Brighton. We direct bill 3rd party insurance companies for your eye exam, prescription eyeglasses, and contact lenses for your convenience.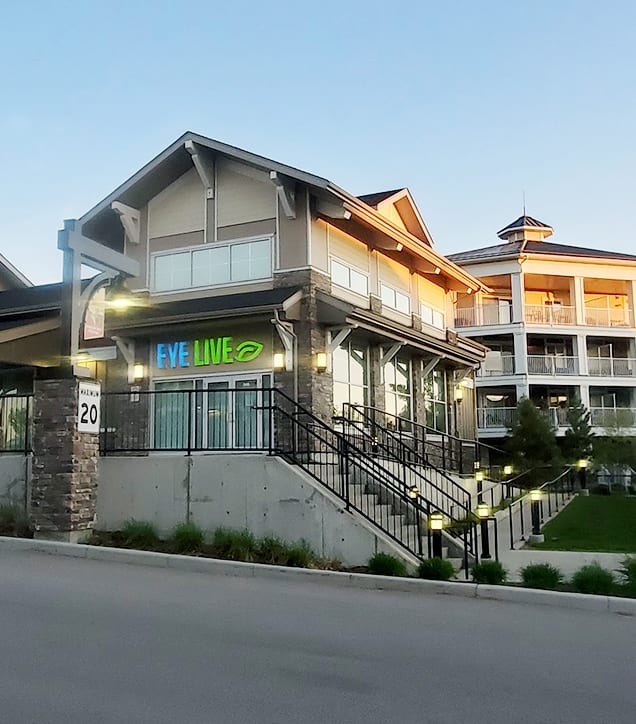 Our Address
#346, 100 Auburn Meadows Dr. SE

Calgary

,

AB

T3M 2G5
Hours of Operation
Monday

:

Closed

Tuesday

:

12:00 PM

–

8:00 PM

Wednesday

:

9:00 AM

–

5:00 PM

Thursday

:

9:00 AM

–

5:00 PM

Friday

:

9:00 AM

–

5:00 PM

Saturday

:

9:00 AM

–

5:00 PM

Sunday

:

Closed
*We are closed the 1st and 5th Saturday of each month.
**We are closed for all statutory holidays.
Book Appointment
Eyewear For The Entire Family