The Eye Live Difference
We all know our health changes throughout our lives, but these changes can also affect our eyes and our overall quality of life. At Eye Live, we're here to help you find the balance between wellness and visual clarity you need to live the life you want.
By taking a comprehensive approach to eye health and overall well-being, we strive to provide you and your loved ones with opportunities to enjoy your sight with clarity, comfort, and confidence.
Learn more about our eye exams and book an appointment with the Eye Live team today. We can't wait to help you see life with clarity!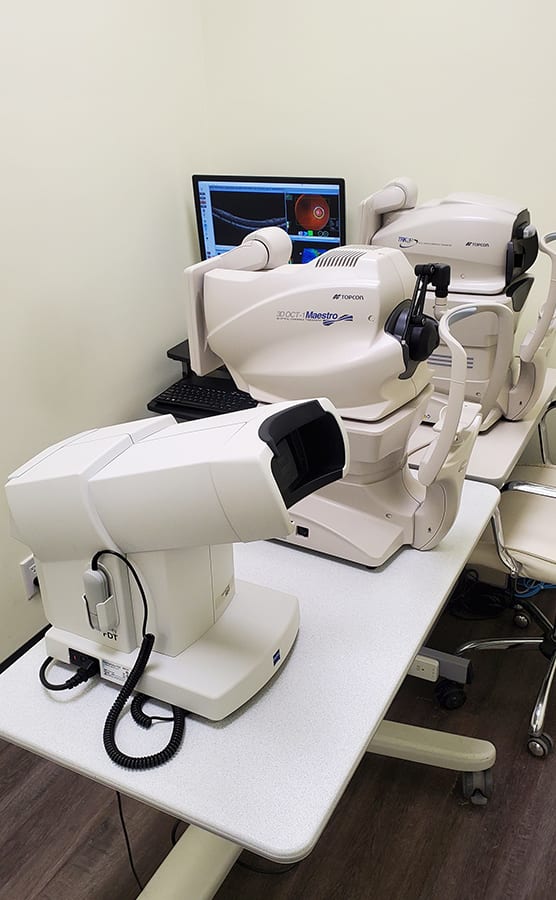 Your Eyes, Our Focus
At Eye Live, eye exams aren't just for checking your vision and prescribing lenses—we take a deep look at the intricate relationship between your eyes and body to help support your quality of life.
We take the time to get to know you, your lifestyle, and what you need from your vision with the help of advanced technology and a compassionate, preventive approach.
Why Are Eye Exams Important?
Eye exams are important, of course, but why do you need to have regular eye exams? And how often should you be visiting us for an appointment?
Our eye exam process is structured to help us look for numerous eye diseases and conditions that may develop throughout your life. While every eye is different, some people have a higher risk of developing cataracts, age-related macular degeneration, and glaucoma as they grow older.
If you are bringing your child in for a regular eye examination and your child has reading or learning difficulties or is on an IPP program at school, it is important that you let Dr. Neufeld know, as additional testing may be recommended to further evaluate visual processing abilities and the potential for vision therapy as a treatment option.
Unless stated by your doctor, we recommend having an eye exam:
Once every year between 6 months and 19 years of age.
Once every 2 years between the ages of 20 and 39 for those who do not wear contact lenses and once every year for those who do wear contacts.
Once every 2 years between the ages of 40 and 59 (and once every year for those who wear contact lenses).
Once every year after turning 60.
We might recommend more frequent eye exams if you're at risk of developing an eye disease or condition. Please visit our eye disease diagnosis and management page for more information on these concerns.
What Can You Expect from an Eye Exam?
If you're a new patient, we'll ask a few questions about your health history, lifestyle, and current medications to understand how we can fully address your concerns.
We'll also chat about your family medical history and give you ample time to ask any questions on your mind.
During your comprehensive eye exam, we'll test more than just your vision—we'll use your answers to our questions to assess your overall risk factors for eye diseases and other vision conditions and provide testing for those conditions.
Evaluating Your Vision
Dr. Neufeld's eye examinations include 3 major parts. During the first part of your evaluation, we will assess your vision quality and determine the prescriptions that can help you have comfortable, clear vision for your various visual demands.
If you have concerns about your vision, please let us know, and we'll adjust our approach to suit your needs.
Assessing Your Binocular Coordination
The second part of your evaluation will include assessing how well your eyes work together as a team, your eye tracking skills, and how much visual stress your eyes can handle while performing various tasks.
Some eye care practitioners skip this testing—however, for those who show difficulties in this area of testing, their eyeglass prescription may need to be changed to provide comfortable vision support.
Examining Your Eye Health
During your exam, we also take the time to assess your eye health with the help of modern technologies and techniques. Through a device known as an ocular coherence tomographer, we can detect signs of common eye diseases and conditions like glaucoma, age-related macular degeneration, and diabetic retinopathy.
We will project the images of your retina on our 52" television and walk you through any concerns in detail. Even if there aren't any concerns, we can provide you with advice on keeping your retina and the rest of your eye healthy.
Next Steps
Following your eye exam, we can recommend or prescribe strategies to support your vision, eye health, and overall well-being.
Some of the solutions we recommend may include prescription eyeglasses or contacts, but they can also include lifestyle and nutritional advice.
We even have an on-site lens edging system to help you get the lenses you need quickly.
We're Always Here to Help
Our mission is to help support your quality of life with modern, compassionate eye care practices. When you visit our insightful and caring team, we strive to help you leave with a clear understanding of your eyes, your family's eye care needs, and how to manage them.
If you're ready to see how we can help care for your family's eyes, please book an appointment today!
Visit Our Location
Find us in Auburn Bay Station, near the Auburn Bay Co-op and next to The Brow Studio. We serve patients across SE Calgary, including Seton, Mahogany, Cranston, Copperfield, McKenzie Lake, McKenzie Towne, and New Brighton. We direct bill 3rd party insurance companies for your eye exam, prescription eyeglasses, and contact lenses for your convenience.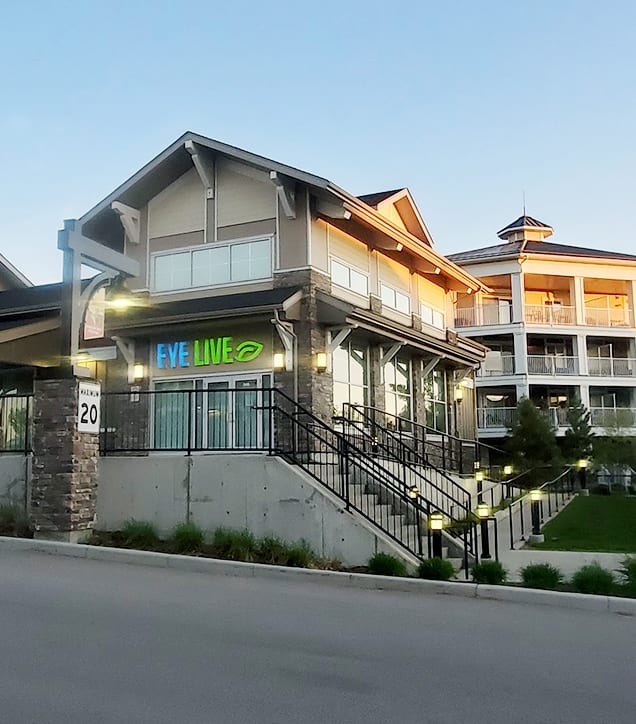 Our Address
#346, 100 Auburn Meadows Dr. SE

Calgary

,

AB

T3M 2G5
Hours of Operation
Monday

:

Closed

Tuesday

:

12:00 PM

–

8:00 PM

Wednesday

:

9:00 AM

–

5:00 PM

Thursday

:

9:00 AM

–

5:00 PM

Friday

:

9:00 AM

–

5:00 PM

Saturday

:

9:00 AM

–

5:00 PM

Sunday

:

Closed
*We are closed the 1st and 5th Saturday of each month.
**We are closed for all statutory holidays.
Book Appointment
Eyewear For The Entire Family