Explore Our Eye Care Products
At Eye Live, we offer a variety of nutritional and eye care products for dry eye relief and your general eye health. Our products include omega-3 supplements, medicated drops, and therapy eye masks, and we have something for everyone in our product line.
So, explore our products and address your dry eye needs today. Contact us to learn more about the variety of products we offer—our team is ready to help and answer questions.
Omega-3 Supplementation
Some key ocular health benefits of Omega-3s include:
Decreasing inflammation
Increasing the quality of the tear film
Reduction of dry eye syndrome
Faster epithelial healing and visual recovery with PRK
Regeneration of corneal nerves
We offer PRN omega-3s which help address the underlying cause of dry eye disease. PRN products are supported by clinical evidence.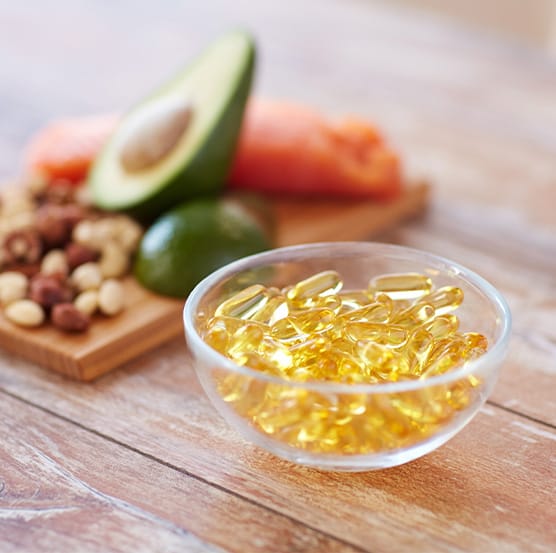 NutraSea Dry Eye Omega-3s
The National Dry Eye Disease Guidelines for Canadian Optometrists now include EPA, DHA, and GLA as a management strategy for chronic dry eye. NutraSea Dry Eye Targeted Omega-3s are formulated to help relieve and improve dry eye symptoms, including support for proper tear function. NutraSea Omega-3s provide 1,500 mg of EPA+DHA and 150 mg of GLA, requiring just one teaspoon a day, featuring a delicious citrus flavour.
NutraSea is a 1% for the planet member.
We Love Eyes
Eyelid & Eyelash Cleansing Oil
This cleansing oil is formulated with a higher concentration of tea tree oil to gently remove bacteria, Demodex, allergens, greasy debris, and eye makeup without the toxins.
Eyelid & Eyelash Makeup Remover Oil
Sleeping with eye makeup can contribute to dry eyes and contact lens discomfort. Remove even waterproof mascara with zero preservatives and discover the benefits of Australian tea tree oil.
Eyelid Foaming Cleanser
Your tear film will fall in love with our clean ingredients. Improve how your eyes feel by washing away sources of inflammation such as bacteria, Demodex, pollen, and other debris.
P.M. Eyelid Butter
The eyelid skin is 4x thinner than the face and is vulnerable to transepidermal water loss and damage from makeup and skin care products. Improve dry under eyes, dry eyelid skin, fine lines, dark circles, and puffy eyes by restoring the eyelid skin barrier while asleep. A luscious, gooey emollient that is ideal to use on recovery and slug days for those that skin cycle. 30 nights for initial results.
I-Med Pharma Products
I-DROP PUR
For mild to moderate dry eye
I-DROP PUR is preservative-free and contains 0.18% HA and is highly effective at hydrating and lubricating the cornea. It provides advanced, long-lasting relief for mild to moderate dry eye disease and is contact lens compatible.
I-DROP PUR GEL
For moderate to severe dry eyes
I-DROP PUR GEL is preservative-free and contains 0.30% HA and is highly effective at hydrating and lubricating the cornea. It provides superior and long-lasting relief for moderate to severe chronic dry eye disease. It can be used with scleral lenses and in harsh environmental conditions.
I-DROP MGD
For chronic evaporative dry
I-DROP MGD is a premium, preservative-free artificial tear containing 0.20% HA that helps relieve symptoms of evaporative dry eye. Containing superior osmoprotectants and bioprotectants, it's an advanced eye drop for hydrating and lubricating the cornea. It's recommended for patients suffering from MGD.
Hot & Cold Therapy Eye Mask with Thermabeads
The I-RELIEF mask heats the eyelids to help open the meibomian glands, which allows oils to flow onto the ocular surface. Heating the eyelids can liquefy the oils in obstructed and dysfunctional glands prior to lid massage.
I-LID 'N LASH PLUS
Ocular cleanser with HA & tea tree oil
I-LID 'N LASH PLUS is a lid and lash cleanser formulated with 5% tea tree oil to help remove ocular debris and enhance the effectiveness of tear lubricants. It's recommended for patients requiring deeper cleansing. It soothes and hydrates the skin around the eyes and is safe for contact lens wearers.u003c/spanu003e
I-LID 'N LASH HOCL CLEANSING SPRAY
Ocular hygiene spray
A convenient ocular cleansing and hydrating spray formulated with 0.02% pure HOCL for lids and lashes. I-LID 'N LASH HOCL CLEANSING SPRAY can be used in combination with I-LID 'N LASH wipes or pumps and is gentle enough to use throughout the day.
Eye Ointments & Eye Drops
Ocunox Eye Ointment
Nighttime protection of the tear film
Ocunox eye ointment features:
Vitamin A, which helps improve tear film health
Preservative and phosphate free
Protecting and moisturizing overnight
Hylo Lubricating Eye Drops
Dry eye relief, contact lens rewetting, and after surgery
Hylo lubricating drops features:
Preservative and phosphate free
Long-lasting dry eye relief
German-engineered airless bottle, dispensing one drop at a time
6-month sterility
Eye Care Products for Your Unique Needs
At Eye Live, we have it all. We want to help you look and feel your best, and through our wide range of products, we can help with dry eye relief, eye aesthetics, and more.
Contact us to learn more about our products and find the right product for your eye health needs.